ProfilePrint awarded prestigious T-up Excellence Award 2023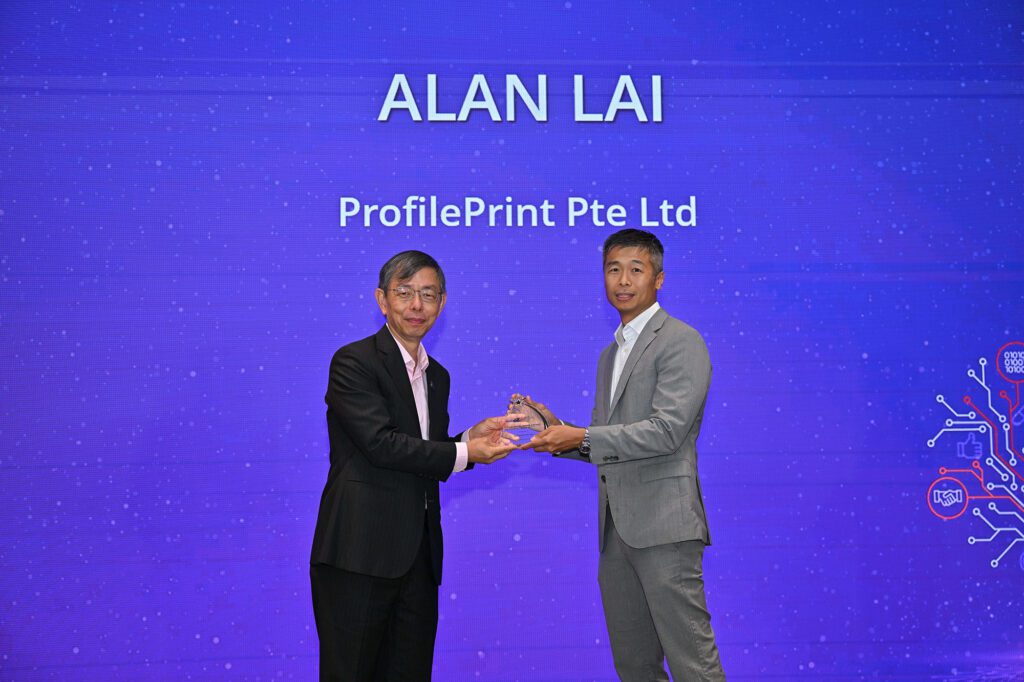 (From Left to Right): Mr Peter Ong (Chairman, Enterprise Singapore), Mr Alan Lai (CEO and Founder, ProfilePrint)
SINGAPORE, 7 November 2023 – ProfilePrint Pte Ltd is honoured to receive the prestigious A*STAR T-Up Excellence Award 2023 together with Dr Chew Wee from the Singapore Institute of Food and Biotechnology Innovation (SIFBI) at the annual Singapore Week of Innovation and Technology (SWITCH) 2023. The T-Up Excellence Awards celebrate the exceptional contributions of A*STAR Research Scientists seconded to pioneering Small & Medium Enterprises to help them develop innovative and marketable products.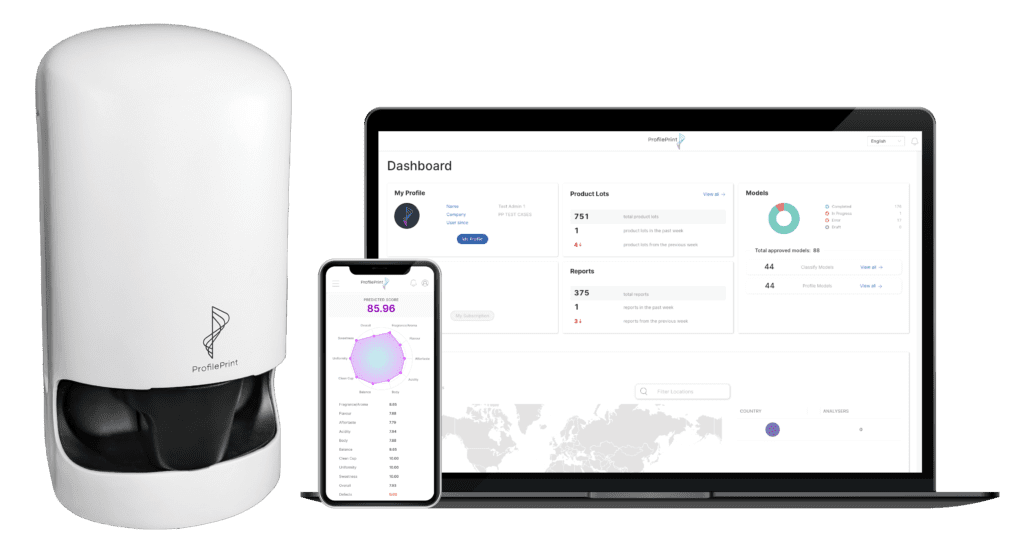 ProfilePrint Analyser and Platform
Leveraging his expertise in the field of Near infrared and Raman spectroscopies, Dr Chew worked with ProfilePrint to further strengthen the accuracy and repeatability of its food ingredient analyser and assessed other potential technologies. Through its patented Identity-as-a-service (IDaaS) technology, ProfilePrint's A.I.-driven solution synthesises complex data, enabling users to create customised AI models to rapidly predict the identity and quality of ingredients within seconds. Combining sensor technology with a seamless SaaS platform, ProfilePrint offers real-time assessment of food ingredients at any stage in the supply chain, so that agribusinesses can make smarter and more effective purchasing and selling decisions. ProfilePrint's solution is already being deployed by food industry leaders such as Cargill, Olam, and Louis Dreyfus Company in a range of applications including taste profiling, ingredient matching and sample verifications for foods as diverse as coffee, tea, and even fats and oils.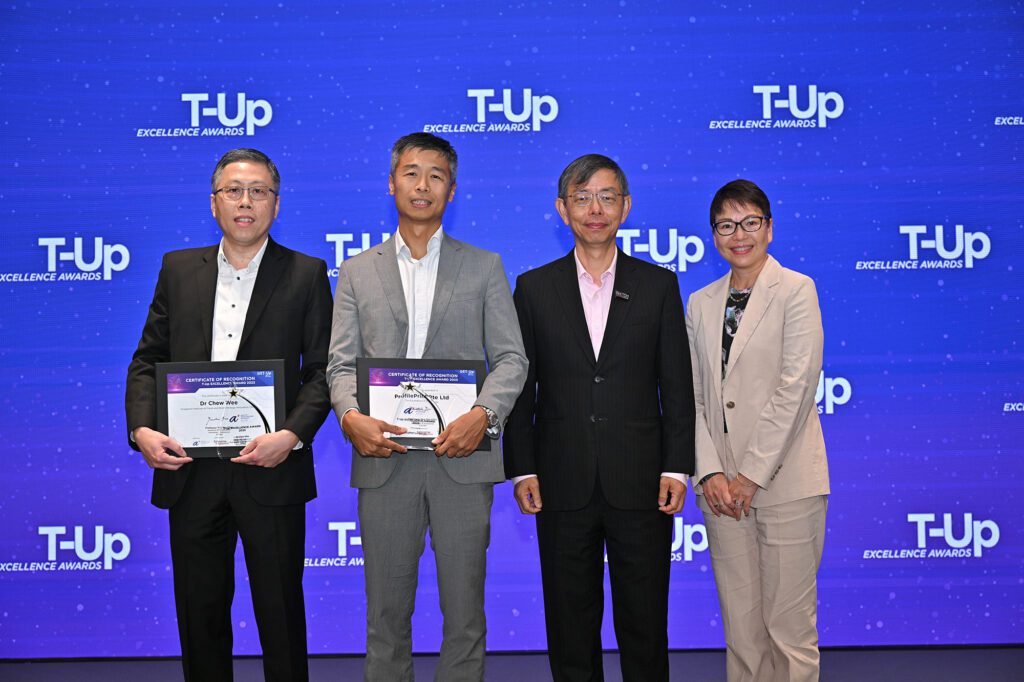 (From Left to Right): Dr Chew Wee (Principal Investigator, A*STAR Singapore Institute of Food and Biotechnology Innovation), Mr Alan Lai (CEO and Founder, ProfilePrint), Mr Peter Ong (Chairman, Enterprise Singapore), Ms Sze Tan (Executive Director, A*STAR Singapore Institute of Food and Biotechnology Innovation)
The T-Up initiative is an excellent demonstration of a public-private partnership to drive science and tech innovation. By tapping into the pool of R&D talents at A*STAR, ProfilePrint could gain a strong edge in an increasingly competitive market.
ProfilePrint is honoured to be recognised together with Dr Chew in receiving this award. It is indeed a strong encouragement for the company to continue its pursuit of innovation and excellence in its field.

ProfilePrint is an AI-driven ingredient quality platform powered by a patented digital food identity-as-a-service (IDaaS) technology. ProfilePrint synthesises complex molecular data of ingredient samples into digital fingerprints, rapidly predicting its identity and quality, helping agribusinesses to buy and sell better. Backed by the world's largest food ingredient conglomerates and international venture funds, ProfilePrint is a Singapore-based company with a global footprint.

A*STAR, the Agency for Science, Technology and Research, is Singapore's pioneering organization driving mission-oriented research to advance scientific discovery, technological innovation, and economic growth. With a focus on nurturing talent and fostering collaborative partnerships, ASTAR bridges academia and industry, delivering impactful outcomes and contributing to societal benefits. A*STAR's vision is to be a global leader in science, technology, and open innovation, enabling significant research initiatives that benefit both the economy and society.